For a country where COVID numbers appeared to be dropping dramatically just a few weeks ago, what has gone so wrong in India?
India has set a new worldwide record for an upsurge in daily coronavirus cases, while deaths from COVID-19 also jumped by an all-time high over the last 24 hours on Monday. The country is suffering a critical devastating surge in Covid-19 cases, has so far confirmed more than 186,000 deaths and 16 million. With the steadily increasing death toll, families are being forced to find their oxygen and to wait to cremate their loved ones.
Numerous countries, including the United States, the United Kingdom, Pakistan, and Germany, have offered support to India's healthcare system struggling to fulfill the increasing demand for medical oxygen and hospital beds.
India is facing a 'severe, intensive' second wave. The sudden spike in cases has brought the nation to its knees. The reason behind that is not taking seriously to Covid-19 Pandemic by their government as well as a nation.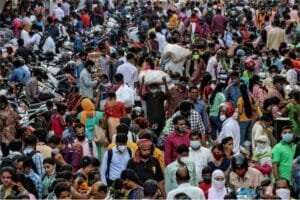 India's second wave was powered by people attending weddings and social gatherings, and by mixed messaging from the government, allowing political rallies and religious gatherings. Experts believe that India's second wave is being stimulated by people who do not follow SOPs. After being cooped up in their homes for nearly a year, many Indians have begun gathering at crowded weddings and family functions without taking precautions. "It is social fatigue. This has led to a serious form of fatalism, and the propensity to take risks.
The government is also responsible for allowing reckless behavior in the population. Because of the country's political parties for pressing ahead with crowded campaign rallies for state elections. India's election authorities announced key elections in five states where 186 million people were eligible to vote for 824 seats.
Beginning 27 March, the polls would stretch over a month, and in the case of the state of West Bengal, be held in eight phases. The campaigns have often involved numerous rallies with large crowds – with minimal social distancing and very little mask-wearing. Political campaigners and candidates were also seen not following Covid safety protocols. Campaigning had begun in full swing, with no safety protocols and social distancing.
India's election commission issued warnings about such gatherings in one of the key election battlegrounds, West Bengal state. It finally banned rallies there on 22 April after noting that many politicians weren't sticking to safety rules.
In mid-March, the cricket board allowed more than 130,000 fans, mostly unmasked, to watch two international cricket games between India and England at the Narendra Modi stadium in Gujarat. This also results in a surge in Covid-19 as of no safety protocols and social distancing.
On April 1, the Kumbh Mela, an annual religious event, was also allowed to begin with full fanfare. As 3.5 million Indian devotees gathered in the state of Uttarakhand to take an annual holy dip in the Ganges. it was unsurprising that it turned into a super spreader event—although its full effect won't be known for a few weeks. In the short term, it pushed up the number of daily cases in Uttarakhand from 30 to 60 cases in February to 2,000-2,500 this month.