All the details of Indian Investment in Afghanistan since 2001. The Indian investments include infrastructure and developmental funding to various projects. These projects were able to assist the Afghan government in establishing large scale impactful activities within the country. Most importantly, these investments were focusing on creating soft power of Indian nation in the Afghan environment.
However, these investments were found futile as the US installed regime went out of power. The Taliban were able to capture Kabul on 15 August 2021. After a month, the Taliban are in full control of their nation. This is lesser time than the US administration took with all the massive defense capabilities in 2001.
A few of the major Indian investments include:
Parliament Building in Kabul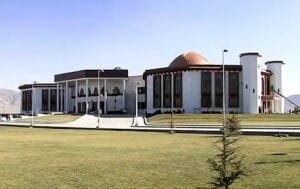 India built the Afghan parliament in Kabul with an investment of $220 Million. More than 500 laborers had worked on the building, most of them Indian nationals. The main attraction of the building is a bronze dome of 32 meter diameter and 17.15 meter height is considered to be the largest dome in Asia.
Stor Palace
The palace, located on a hilltop in capital city Kabul, was built by Afghan King Amanullah Khan in the 1920s.
Habibia High School
Habibia High School represents the elite educational institution in Kabul. It is situated in the south of the city in a district known as Carteh Seh. It suffered severe damage during the civil war of the 1990s. Over 18000 students are studying in three different shifts. The undergraduate enrollment is approximately 2000 students. The Indian government spent $5 Million on its restoration project.
Salma Dam
Salma Dam is also known as Afghan-India Friendship Dam. The Afghan cabinet renamed the Salma Dam to the Afghan-India Friendship Dam in a gesture of gratitude to strengthen relations between the two countries. It has been built with an investment of US$ 273 Million.
Apart from the investments in Kabul, India also helped rebuild some of the major projects in other parts of Afghanistan. Some of these projects are:
Pul-e-Khumri-Kabul Power Line
Indira Gandhi Institute for Child Health
Afghan National Agriculture, Sciences and Technology University
Chimtala Power Substation
Kandahar Cricket Stadium
Delaram to Zaranj (218 KM Road)
Shahtoot Dam
More from TNF: Pakistan didn't win in Afghanistan, it's only celebrating Indian defeat
However, with the collapse of Afghan regime, the purpose behind the development of these projects may not be achieved. Moreover, the same buildings and infrastructure is being utilized by the Taliban regime to ensure better services of Afghan nation.