In Pakistan, the number of COVID cases falls as a country-wide vaccination drive starts. So, the possibility of highly infectious variations nonetheless persists as supply difficulties remain.
This month, after spending a few months waiting for the aged group, many young people of Pakistan are looking to obtain an injection of the vaccine of China's Sinopharm.
The vaccination drive in Pakistan began this year with a rocky beginner, as people were hesitant about the shortage of supplies and vaccine. Only elderly people were entitled to a shot in February. But Pakistan began a major immunisation programme for all adults this month, propelled by the inflow of Chinese vaccinations.
The procedure is structured using an online method of registration. When a dosage is available, users receive a text message number and go to one of the country's 2000 mass immunisation centres.
In previous months, South Asia had an increased COVID incidence and people were prioritised in Pakistan to get vaccinated.
It takes 20 minutes to take a shot. The vaccination process is straightforward. Pakistan's government calls on citizens to be vaccinated through print and electronic media. Thus individuals share their experience on social media to shake beliefs regarding the vaccine.
Pakistan Speeds Up Vaccination Drive
Almost 13 million people have gotten at least one dose of COVID vaccination out of a total 230 million population. Your second shot in the future months will be planned.
"The daily vaccination rates have been steadily rising to around 400,000 doses every day. We want to raise further to more than half a million doses a day "Faisal Sultan, the Pakistani Minister of Health informed the reporters.
The public health practitioner and health policy specialist, Dr Fareeha, has stated that the Government of Pakistan has improved access and public reaction to vaccination.
"There have been considerably fewer Corona cases," added Ms Fareeha.
"The government is now providing mobile vaccination service to help the people come to vaccinate," she said.
In recent weeks there had been a significant reduction in the number of COVID cases in Pakistan. Since last week, we have an average of 660 new cases and 25 casualties, the lowest in the last eight months.
Covid Vaccinations in Pakistan Best against Virus Infections
Medical professionals have refuted the misconception that in Pakistan Covid-19 vaccinations are not effective against various variants of COVID and encouraged people to take precautions as quickly as feasible.
Dr Faisal Sultan, Health Special Assistant to the Prime Minister (SAPM) claimed there is no indication that Covid-19 vaccinations are not protecting against various variations.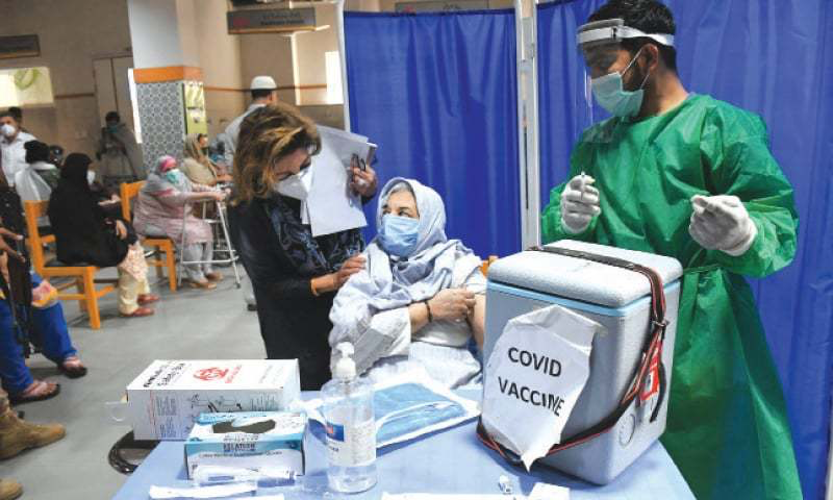 "We need to continue to vaccinate. All the data now indicates that the protective effect will be maintained," he stated.
In a social media video message, Dr Sultan remarked "The B117 variation, say, is slightly better transmitted; certain varieties are slightly higher."
He added that the creation and "not unexpected" generation of viral variations is just an issue of natural development.
"The variation B117 [originally identified in Great Britain] is now prevalent in many nations across the world and is the most frequent variety. Likewise, several cases have lately been recorded in Pakistan for B1351 [the South African variety] and P1 [the Brazilian variation]," added Dr Sultan.
Media coverage of all Covid 19 vaccinations was reported as protecting against serious disease and mortality by the Medical Microbiology and Infectious Diseases Society of Pakistan (MMIDSP).
It has been noted that vaccinated people are likely to become sick following exposure to the virus, although it has stated that the symptoms remained 'soft,' which symbolises infectious diseases in the country.
"Extensive immunity may not develop even during the complete course of the vaccination because of a compromised immune system. Such people may need extra dosages for booster."
It noted that there is no guidance available to recommend that this is a developing issue.
Pakistan Likely To Receive 13m Covid Vaccines By End Of June
A top health official said on Monday that Pakistan will get additional 13.2 million doses of coronavirus vaccination by the end of June.
Dr Faisal Sultan, Prime Minister advisor on health issues, told reporters in Islamabad capital that 90% of those doses were bought, whilst the remainder of the doses had been contributed.
The government has signed deals with several manufacturers, including 13.2 million, for a total of 30 million COVID-19 dosages.
Sultan said that the remaining 11 million shots were received in lots following June, with five million doses distributed and being delivered around the country.
Currently, Pakistan using Sinopharm and CanSino vaccines from China as well as Sputnik vaccines from Russia.
So far 2,1 million individuals have vaccinated in Pakistan, a nation with more than 210 million population.
Sultan stated that everyday immunizations have steadily grown from 30,000 to 150,000. And "the objective is to raise this capability to 300,000."
He added Islamabad is set to start producing locally Chinese CanSino single-dose vaccine. Which would "lower dependency on other nations and businesses."
About three million doses would be manufactured every month for this programme at the National Institute of Health Islamabad, he said.
The first nations to participate in the China CanSino vaccine medical trial were Pakistan. Today, more and more people are now endorsing the Vaccination drive in Pakistan and facilities are given by the Government. Hence, on behalf of the above data, we can say that Pakistan's vaccination drive is the best across the globe.