Mushaal speaks out against Indian illegal constitutional vandalism in Kashmir. Mushaal Hussein Mullick is a young Pakistani woman living away from her husband for last 7 years. She is married to one of the most prominent Kashmiri freedom movement leaders, Mr. Yaseen Malik. She has hardly been able to live a normal peaceful married life. The reason is that Indian government has always seen her husband (Mr. Yaseen Malik) as a threat due to his stature in Illegally Occupied Indian Kashmir. Mr. Malik has been able to guide the Kashmiri youth and the general public towards their right of freedom from illegal occupation of their land. However, this has also resulted in losing his personal life in entirety. He has not been able to enjoy even the smallest of personal joyful moments such as his daughter's birthday or a usual dinner with wife.
Instead, he spends his life in Jail for a crime that every man will do, if he is in his place. He has stood against the occupation forces to fight for his motherland and refused to become a partner in crime in Sri Nagar, the capital of Illegally Occupied Indian Kashmir.
Mushaal on Indian illegal vandalism in Kashmir
TNF spoke to Mrs. Mushaal Mullick on the issues that relate to her life. We were updated on the health challenges to Mr. Malik and his current situation. Moreover, we also discussed how Mrs. Malik is managing to live her life, deal with traumas and raise her daughter as a single parent. Moreover, we also discussed what we can expect in Kashmir in the future, and how does she see the role of Pakistani side in this crisis. Our questions and her replies are given below:
TNF: What are Kashmiris left with after Indian aggression of 5th August 2019?
Mrs. Mushaal Mullick: They are in a difficult situation. India is changing the demographics of the region by force after the revocation of Article 370 and 35A. And there is more to it. Right now, the freedom movement is unarmed. Mr. Yaseen Malik was the pioneer of armed struggle in Kashmir. However, the international community convinced him to follow a peaceful path. And he agreed to follow a non-violent Gandhian path of politics. However, he faced worst torture, illegal cases and incarceration after following the non-violent path. The Indians are killing the peaceful Kashmiris and this may result in motivation for armed struggle. Since, the Kashmiri youth is looking at the Indian treatment towards peaceful leaders. Mr. Malik is a symbol of non-violence and this philosophy is losing ground. The educated Kashmiris see it differently.
Moreover, the Kashmiris are living a leaderless life. They have seen how the ruling political leadership of Kashmir such as Abdullah's and Muftis were used as tissue paper and thrown away when they were not needed. Thus, it was necessary that genuine political leadership should be available who can guide the Kashmiri youth towards a peaceful resolution of Kashmir.
TNF: How do you see the situation in Kashmir in current circumstances in terms of Indian illegal constitutional vandalism in Kashmir ?
Mrs. Mushaal Mullick: This situation is so difficult that we can't compare it with the past especially after the abrogation of Article 370 and 35A. The Kashmiris in Illegally Indian Occupied Kashmir are completely stateless and refugees. it's just not the military occupation, now the public is also coming and taking away voting rights and residency certificates have been issued, and the demography is changing so fast that it's so difficult fight this battle for an unarmed nation which is leaderless right now because they're all locked up and  we don't know for how long.
Mushaal speaks out against Indian illegal constitutional vandalism in Kashmir
TNF: What approach should Pakistan adopt for Kashmir issue resolution?
Mrs. Mushaal Mullick: We have heard for ages that Kashmir issue has no direct military solution. The same idea is always floated from different governments in Pakistan. However, Pakistan needs to adopt a better approach for raising the issue at international forums. They need to have legal team of experts of international stature who can strongly fight the cases in international courts of law.
We can learn from Palestinians as in how they manage this. They take the cases forward in international criminal courts with evidences, case studies, documentaries and photographic evidences. Moreover, they (Palestinians) can't do anything but they have done in a more systematic manner as compared to what the Pakistani policies were in supporting Kashmiris at international level. They need to raise at UN Security Council as this is a nuclear flashpoint. The foreign office needs to desperately follow this. More importantly, we need to hire few international legal experts who can ensure that the voice of Kashmiris is heard in the international forums.
TNF: Do you think Pakistani government is supporting the Kashmir cause as it used to do a few decades ago?
Mrs. Mushaal Mullick: Well, Pakistan wants to play a role. However, I think it is not in the hands of the Pakistani Government anymore. The entire situation in Indian Occupied Kashmir has changed. I would say a consistency in Kashmir Policy is needed. We need to approach the five permanent members of UN and share the Kashmir case. We need to clearly inform how a nation, which is defenseless and leaderless, is trying to cope up with agony of an intruding force.
TNF: Pakistani opposition is blaming the current government for selling Kashmir. What do you think about this?
Mrs. Mushaal Mullick: I don't think anybody can sell Kashmir. If you see Modi's campaign promises, he had committed to remove the Article 371 and 35A. So, there is no point of blame game. Rather, this political battlefield weakens the Kashmir cause. When the Pakistani leaders are so busy whether in the government or the opposition in fighting in local issues, it doesn't help the Kashmir cause. I believe that there should a clear 5 year Kashmir Policy by the government. It should be in consultation with the opposition and this could be the way forward. I would say that the political parties could have created a strong wave of discourse. Yet, the internal issues and egos hurt the cause.
TNF: Can you share any update on the health of Mr. Yaseen Malik?
Mrs. Mushaal Mullick: He is not well. His health situation is fragile mainly due to incarcerations and continuous torture. He faces electrocutions and other forms of torture in Indian cells. We must know that he is in his early 50s and he has a metallic valve. He is on blood thinners and other live saving drugs. They have to regularly monitor his INR.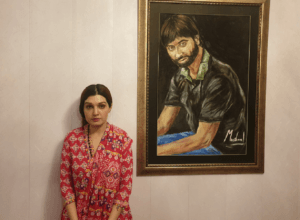 Yet, unfortunately the Indians sometimes don't give him medicines even. He is living in a 5 * 7 cell. Moreover, he has weakened drastically. He already has kidney infections and he also faced urine infection during his time in prison. So, he is not in a very good shape in terms of his health.
TNF: Can you put into words the trauma that you face and that your daughter is facing as a direct family member of key Kashmiri leader?
Mrs. Mushaal Mullick: Actually, every night is tough for me and my family. There are different thoughts that comes to my mind at any moment. Even when I am eating food, there comes a thought which just disturbs me. Some days are really tough, especially when I see a latest picture from the jail where Mr. Malik has been tortured.
Every day, we just hope that we don't hear any bad news from India. I just hope he doesn't get Covid or anything else because I fear that his health is already weak. Sometimes, I'll just imagine his condition and it definitely brings depression. For instance, I'd imagine the open toilets and electrocution or other forms of torture he facing. And, it affects me. But, I try it shouldn't affect my mind because I don't have to be a depressed parent. I understand that kids are very sensitive and I've to act strong for her also.
TNF: Do you think your daughter also has any traumatic thoughts and how do you handle your daughter as a single parent?
Mrs. Mushaal Mullick: No. I try to keep it colorful. I try to tell her to keep watching cartoons like Superman or Spiderman. These cartoon hero's, like batman, depict something different. They come and they save humanity. I tell her that he father is playing a similar role.
So, I tell her that her father is a hero for people. I keep telling her that he has to help other kids and that's why the people love you. Obviously a child needs that protection that you get from your father. The mother nurtures you and the father gives you that feeling of protection. Especially, this bond means a lot for daughters. But, the cause of Mr. Malik is such a big one that my daughter is also giving the sacrifice at this very young age.
Other Stories at TNF: The Pegasus Project: Pakistan demands UN probe into Indian spy operation
All You Need to Know About Zahir Jaffer and Noor Muqaddam
TNF: How do you handle this situation, or how do you overcome depressive thoughts?
Mrs. Mushaal Mullick: At times, it's one of the most difficult thing to control the emotions. However, I am thankful to my mother because she is the biggest support for us. She keeps reminding me for faith in Allah that disappointment is disbelief and one should not give up. And then I also think that I have a mission of life, not just as wife of Mr. Malik, rather I consider myself a voice of every Kashmiri.
I had depressive moments for some time in August of 2019. I had trauma attacks as I used to get up at night and it was because of rumors that Mr. Malik was tortured and martyred by the Indian forces. While there were such rumors, there was no confirmation. It was a very, very tough time for me. At this point, I was talking to people in media, to diplomats and others while representing the Kashmir cause. So, there was an internal battle, the panic attacks and then dealing with the delegations and outer world.
So, I would come to bed late at night and think about the happenings, imagine the torture Mr. Malik is facing and feel all the helplessness. At that point, I would ask Allah for his protection and to save him because I can't imagine my life without him.
Although, I'm not an emotional person but I have a beautiful marriage and I love him for the way he has been. He is so brave, yet one collapses while hearing something tragic and so does it happen to me.
Note: This interview is being released as it is the second anniversary of Indian revocation of Articles 370 and 35A respectively. Thus, Mushaal speaks out against Indian illegal constitutional vandalism in Kashmir